Here is how policyholders and referral partners can use the Refer Agency feature to share your agency with their friends, family, and prospective clients.
The Refer Agency feature offers an easily accessible, straightforward way for your clients and referral partners to share your agency with their network.
Using the Refer Agency Feature
To use the Refer Agency feature:
Open GloveBox and Navigate to the My GloveBox home screen.
Click the Refer Agency button on the lefthand side.
Policyholders can then share your agency's custom Referral Link using the share sheet on iPhone and Android.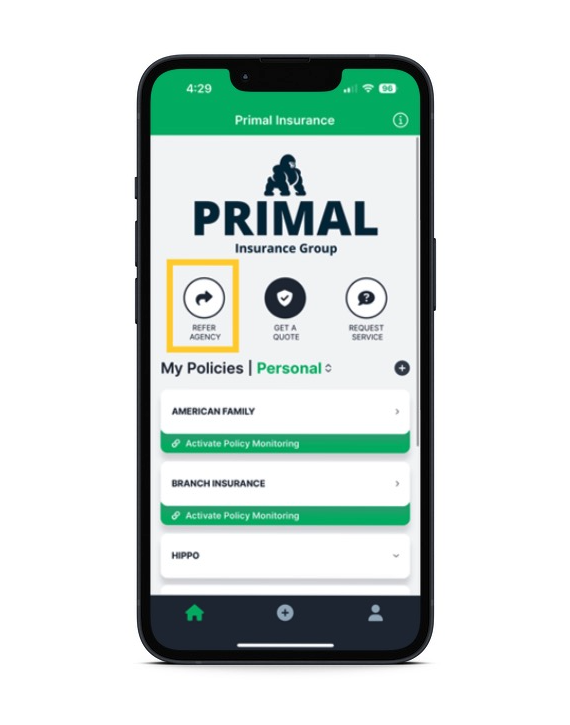 GloveBox Native App
On the native app (iPhone or Android), GloveBox can be shared with a new or existing contact via text message, email, or social media. Pre-written copy is provided, so there is no need for the referring policyholder to add their own message (the text message copy can be modified from here if the user would like).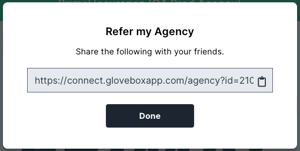 GloveBox Web App
From the web app (on a browser), when policyholders click the Refer Agency button, they are presented with the agency's custom Referral Link. This link can be copied by clicking the clipboard icon, then pasted in a text message (if applicable) or email in order share GloveBox with friends and family.

Once shared, new app users can easily connect with your agency
Once the referred individual opens the app, they have several ways to contact the agency, whether they choose to use the Request A Quote feature, or reaching out directly using the agency contact information provided on the Agency Details screen. Start promoting this feature to not only your current clients, but also to family, friends, and referral partners to maximize new business opportunities.