There are a variety of ways that policyholders can get started using your agency's GloveBox. Here are all of the ways for prospects and existing clients to connect to GloveBox.
Client Invite
A Client Invite sent right from GloveBoxHQ is the most hands-on way to get new prospects and existing policyholders set up with GloveBox. From the Clients tab, search for an existing client or click on New Client and send a one-time invite to get them started.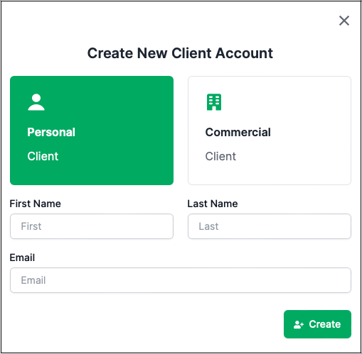 Referral Link
The Refer Agency button is an easy-to-use feature that both clients and referral partners can take advantage of to connect you with potential clients. This feature is easily accessed right from the My GloveBox home screen, and allows app users to share your agency's GloveBox referral link with anyone. Once the prospect has connected, they can easily request a quote from your agency, and can even connect their own carrier for convenient policy management..
Email Signature
Adding a Download Our App button to your email signature allows anyone that your team is communicating with via email to easily access your agency's GloveBox at any point in the conversation. It is a great way to consistently remind your prospects and policyholders about their options for getting help and saving time on future requests/inquiries.
GloveBox Rollout Campaign
The GloveBox Rollout campaign is one of the primary ways that we introduce your agency's self-service platform to new clients. All current policyholders in your client list report, and those that are added to your AMS system moving forward, are added to the rollout campaign. This is a consistent, hands-off method of inviting clients to manage their policies with GloveBox.
Client Login Portal
By including a Client Login Portal with access to GloveBox on your agency's website, you provide a complete self-service experience to both existing policyholders and prospective clients. Use your website to convey to your visitors that your agency provides a variety of options for getting assistance, including a robust self-service tool. This is another hands-off method of enabling policyholders to get started with GloveBox.

Bonus Tip: QR Code
You can take your agency's GloveBox accessibility a step further by taking advantage of a QR code! Visit the Resources tab in HQ to access a QR code generator. Use your agency's custom GloveBox ClientHub Link to create the QR code, and once generated, you can use this on your agency's physical marketing materials to help clients and prospects get seamlessly set up with GloveBox.