GloveBox users can add carriers to their GloveBox to manage policies that were not written through the agency. Learn how GloveBox users can manually add carriers in-app.
GloveBox provides agency policyholders with everything needed to self-service by presenting policyholders with their carriers and policy numbers based on information available from agency AMS data. GloveBox app users can also manually add other carriers to their GloveBox. This can be useful for a client who wants to manage other policies through GloveBox (such as those not written through the agency), or for a prospect who wishes to share policy documents and details with the prospecting agent.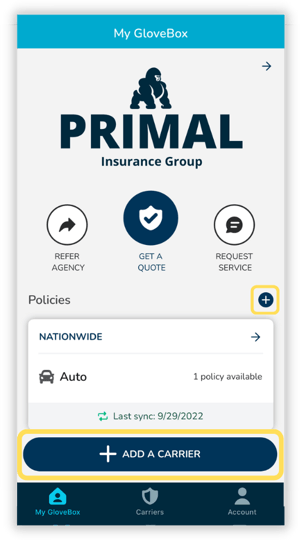 Adding a carrier to GloveBox manually
To manually add a carrier to GloveBox:
From the My GloveBox home screen, click Add A Carrier to navigate to the Carriers screen. (For GloveBox accounts with existing carrier cards, this can be found at the bottom of the home screen. These app users can also click the + icon next to Policies).

From the Carriers screen, search for and select the carrier you wish to add.

From the Carrier Connect screen, click Connect Account to add the carrier and be redirected to the carrier login screen (from here, policyholders can login to the carrier or register carrier login credentials) or click Add to GloveBox to add the carrier to GloveBox without connecting.
Once added to GloveBox, the carrier card will be displayed on the My GloveBox home screen, and any connected policy information will be available in both the GloveBox app and HQ.
Adding a carrier following policy change
When updated agency AMS data is received, any new carriers/policies are automatically be added to the policyholder's GloveBox, and expired carriers/policies will be removed.