Clients can login and connect to their carriers right from the GloveBox carrier card. From here, they can access policy information and policy documents such as ID cards and Declaration pages.
The in-app carrier experience varies among carriers, and access to policy information/documents may not be available for all carriers.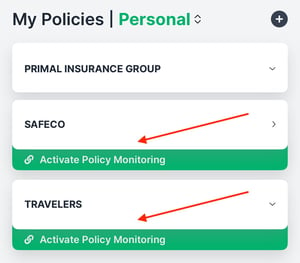 Policy Monitored Carriers
Policy Monitored carriers support the ability to import policy data/documents into a client's GloveBox. You can identify carriers with Policy Monitoring from the green "Activate Policy Monitoring" ribbon below each carrier card on the home screen.
To login with a policy monitored carrier:
From the home screen, click the carrier card for the carrier you wish to connect.
From the carrier screen, click Get Started to access the integrated carrier Login screen.
From the Login screen, policyholders can log in using existing carrier login credentials. If they are new to this carrier, they can register for login credentials right from the GloveBox app.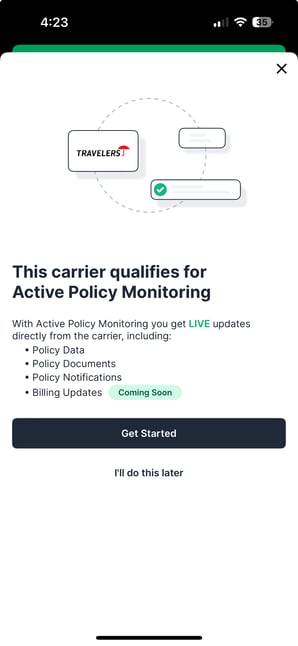 Ongoing connection
Once established, this carrier connection will remain, as indicated by the Last sync date shown under the carrier name. This carrier connection is automatically refreshed, and will update to reflect any policy changes made in the carriers system.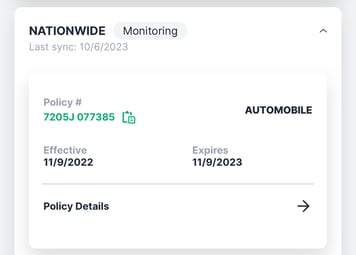 Manually refresh policy data
If a user is not seeing the most recent information, clicking on the policy card and then click the "Sync" message which will manually refresh the carrier connection.
Embedded (non-integrated) Carriers
To log into an embedded carrier: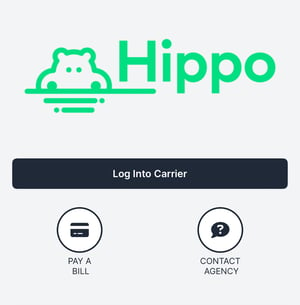 For embedded, non-integrated carriers, users can click the Log Into Carrier button on the carrier card. Client's will be redirected to the login page on the carrier's website (while staying inside the GloveBox experience), where they can log into the carrier portal using their carrier login credentials. Logging into the carrier portal from here allows policyholders to view/access their available policy information and documents.
Unlike integrated carriers, with embedded carriers, documents/policy data cannot be imported directly into GloveBox upon logging in, and users must login each time to access their policy information.
Agency policyholders can easily self-service using details available from agency AMS data, but other GloveBox users such as prospects can also take advantage of the carrier card functionality by manually adding their carriers.